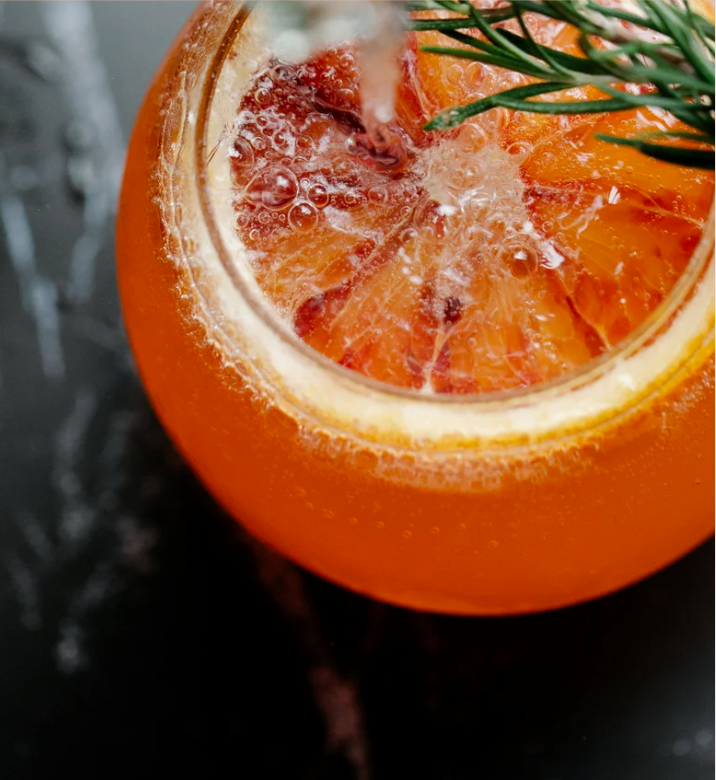 Summer Mocktail Roundup
Vibrant Vitamin Brunch Mocktail
Ingredients 
1 Vitaminis Immune Support Drink Shot

1 oz lemon juice

8 mint leaves

1 teaspoon apple cider vinegar

½ cup ginger ale

1 oz simple syrup (optional)
Instructions 
Clap the mint in your hands to release the scent, then place in a cocktail shaker.

Add Vitaminis, lemon juice, apple cider vinegar and simple syrup (if using) to the shaker.

Add a few ice cubes to the shaker and shake until combined.

Pour into an ice filled glass and top with ginger ale.

Garnish your orange mocktail with orange slices and mint, of whatever you have available.
Good Morning Vitamin Burst 
Ingredients  
2 Vitaminis Immune Support Drink Shots, frozen into Ice Cube Spheres

8 ounces sparkling water (240 milliliters)

2 tablespoons grenadine syrup (use more or less depending on your preference)

2 teaspoons vanilla syrup (optional) (use more or less depending on your preference)

1 sprig rosemary
Instructions
Place two Vitaminis Immune Support ice cube spheres into a 12 ounce glass.
Add in sparkling water. Slowly pour in the grenadine syrup. If you would like, slowly pour in the vanilla syrup.
Serve with a sprig of rosemary and a straw.
Blueberry Belly Boost Sangria
Ingredients
2 cups of blueberry juice (16 oz.)

4 Vitaminis Gut Health Drink Shots

1 lemon sliced into rounds

1 lime sliced into rounds

1 large green apple sliced into wedges- seeds removed

1 cup green grapes

16 ounces ginger ale
Instructions
Add all the fruit to a large pitcher & top with the blueberry juice and Vitaminis Gut Health Drink Shots

Place in refrigerator & chill at least 2 -6 hours

Just before serving add ginger ale

Garnish with some of the fruit from the pitcher when serving
Citrus Berry Biome Booster
Ingredients
1 Vitaminis Gut Health drink shot

1 oz simple syrup

1.5 oz fresh grapefruit juice

2 - 3 oz club soda

3 inch piece of fresh rosemary
Instructions
Fill a glass with ice. Set aside.

Place a 1 inch piece of the rosemary in a cocktail shaker and muddle it slightly to break it up.

Fill the shaker with ice. Add Vitaminis Gut Health, simple syrup and grapefruit juice. Shake well.

Strain into your prepared glass. Top with club soda.

Garnish with a sprig of fresh rosemary, slice of grapefruit, and/or fresh blueberries.