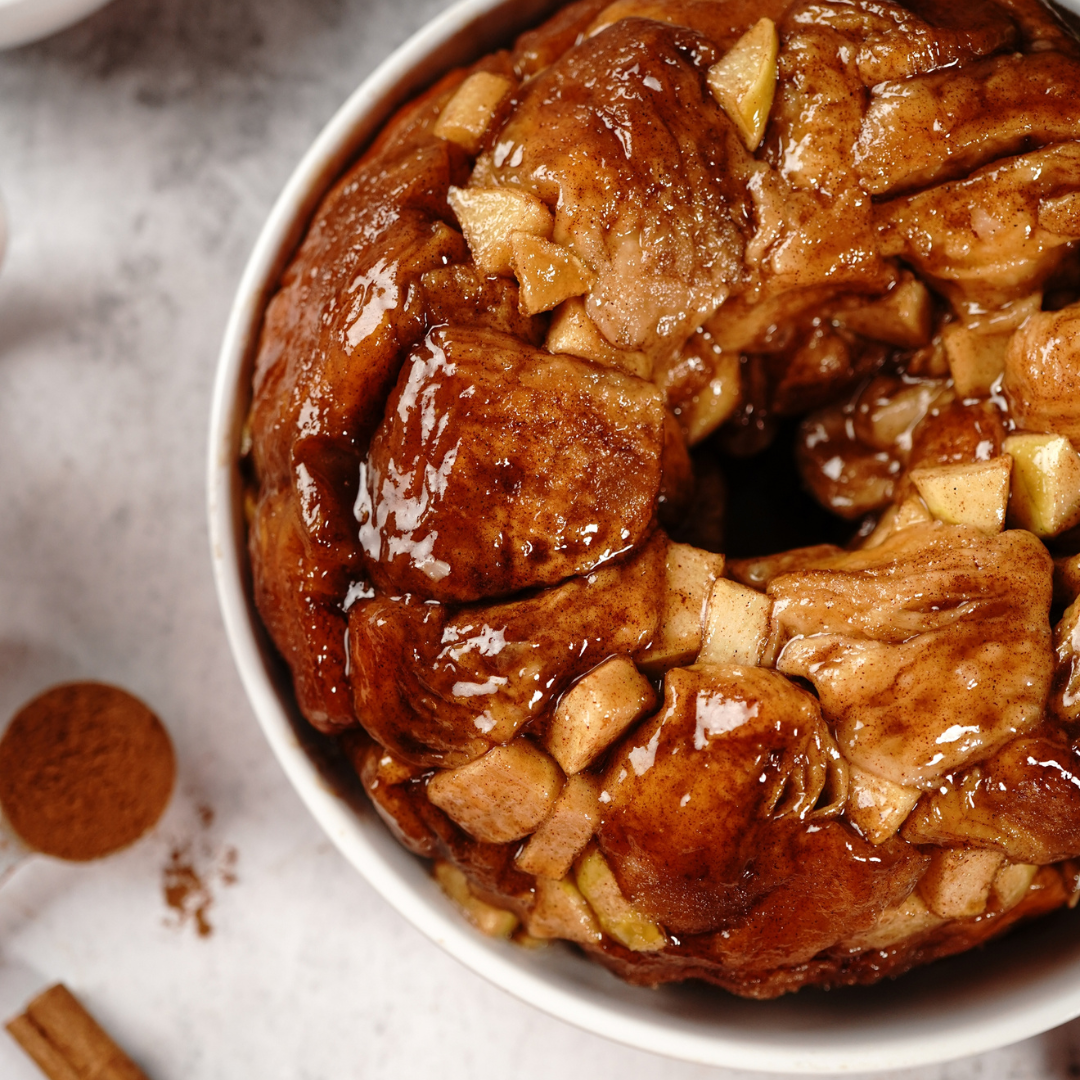 Recipe: A More Modern (and Savory!) Monkey Bread
Who doesn't love the pillowy, pull apart, bready baked treat known as "monkey bread"? Typically a sweet treat, our friend Mandy of Mandylicious Challah, known worldwide as the "challah guru," takes it for a modern, and Middle Eastern, twist making it into a delicious option for lunch, snack or dinner. 
Since starting her challah business out of four home ovens in 2013, Mandy has built her following to include 35,000 Instagram followers in the US and 70 other countries. After word of mouth spread the news of her popular product, she began teaching challah making classes over Zoom for people around the globe.  With imaginative flavor combinations - including fan favorite Cinnamon Toast Crunch - Mandy's offerings are kid-friendly, both to eat and make! 
So get the kids involved in this fun and tasty project and introduce new flavors alongside a favorite hummus or protein based dip and of course, round it out with the essential nutrients found in Vitaminis for a complete meal!         
Recipe: Mandylicious Middle Eastern Monkey Bread
Makes 1 large or 2 small monkey breads.
3 pounds challah dough (use your favorite recipe, or link here to Mandy's)
¼ cup olive oil
4-6 tablespoons each of 3 of your favorite middle eastern spices or spice blends (sumac, za'atar, baharat, turmeric, harissa, etc.)
1/3 cup tahini
½ teaspoon sea salt
Hummus or protein based dip for serving
Liberally grease a 10" bundt pan. Pour olive oil and middle eastern seasonings, each into their own bowl (4 bowls total). After the dough completes its first rise, use a sharp knife or dough cutter to divide it into 40-50 smaller pieces. Coat a piece with olive oil, then roll in one of the spices. Gently place in a greased pan. Repeat with remaining pieces, dipping each one in a different seasoning. Arrange loosely on top of each other, being sure not to pack them too tightly. Cover and let rise for 30 minutes.
Preheat the oven to 350. Mix tahini with salt. Drizzle tahini mixture over the spice covered pieces in the bundt pan. Bake at 350 for 30-35 minutes or until set.  Once cooled, turn the pan over and onto a plate. Serve with hummus or other favorite dip in the center hole.
SubRecipe: Mandylicious Challah Recipe with Vegan Option
Traditional with Vegan Option Dough
1 1/3 cup water                               4 ¼ cup high quality bread flour
1/3 cup canola oil                            Generous ½ cup sugar
4 large egg yolks                              1 tablespoon *instant* yeast
2 teaspoons table salt Extra water and flour as needed for consistency
To make vegan: in place of egg yolks, increase water amount to 1 1/2 cups and oil amount to 1/2 cup
Directions:
Add dry and wet ingredients to a bread machine in the order specified by the manufacturer. Set machine for "dough" cycle.
Or 
If not using a bread machine, combine all the ingredients in a large bowl and knead for 5-7 minutes by hand or by using the dough hook in a stand mixer. To reach desired consistency: if sticky, add additional flour, 1 tablespoon at a time; if dry, add additional water, 1 tablespoon at a time.  
Allow to rise in a large bowl, covered with a towel for 1 ½ hours. 
When the dough cycle is complete, remove dough from the bread machine or bowl, and divide into 6 equal portions. On a floured surface, roll three portions into long ropes, then carefully braid together, then place on a greased loaf pan or greased cookie sheet. Repeat with remaining dough. Cover with a towel and let rise for an additional 20-30 minutes. Preheat oven to 350 degrees.  
To Finish:
Brush with an egg wash (Vegan: use oil or melted margarine)
Bake for approximately 30-40 minutes or until golden brown. 
Dough Pointers:
Please note that the recipe calls for bread flour and instant yeast.
Bread flour is more glutenous than all-purpose flour so it helps the dough ball up easier. You can use all-purpose flour but be prepared to use a considerable amount more and the texture will not be quite the same.
Instant yeast does not need to be proofed. This means that it can just be added in with the rest of the ingredients in no particular order. Avoid quick rise or rapid rise yeasts, but if you are only able to get active dry yeast, you can use it you just have to proof it first.
To proof active dry yeast use the same amount (1 tablespoon) but add it to 1/3 cup 105 degree water and a pinch of sugar, and mix. When it bubbles the yeast has been activated and can be added to the rest of the ingredients. Use 1/3 cup less water in the rest of the recipe.
Dough consistency is CRUCIAL! Dough that is too wet will be hard to shape and won't bake properly. Dough that is too dry will not rise well and taste dense and floury. The goal is to create a cohesive ball of dough that is not floury to the touch. Dough consistency can vary from kitchen to kitchen based on weather, humidity levels, and type of flour used. You can get your dough to the proper consistency simply by adding four or water, one or two tablespoons at a time, as the dough comes together, BEFORE the first rise (dough consistency will NOT improve as the dough rises). If you live in a particularly humid area or are finding that you are having to add a lot of flour, try using 1/3 cup less water at first and adding more as necessary.
After the first rise, dough can be refrigerated for up to five days or frozen for up to a month.
If you have any problems or questions, Direct Message @mandyliciouschallah on Instagram!