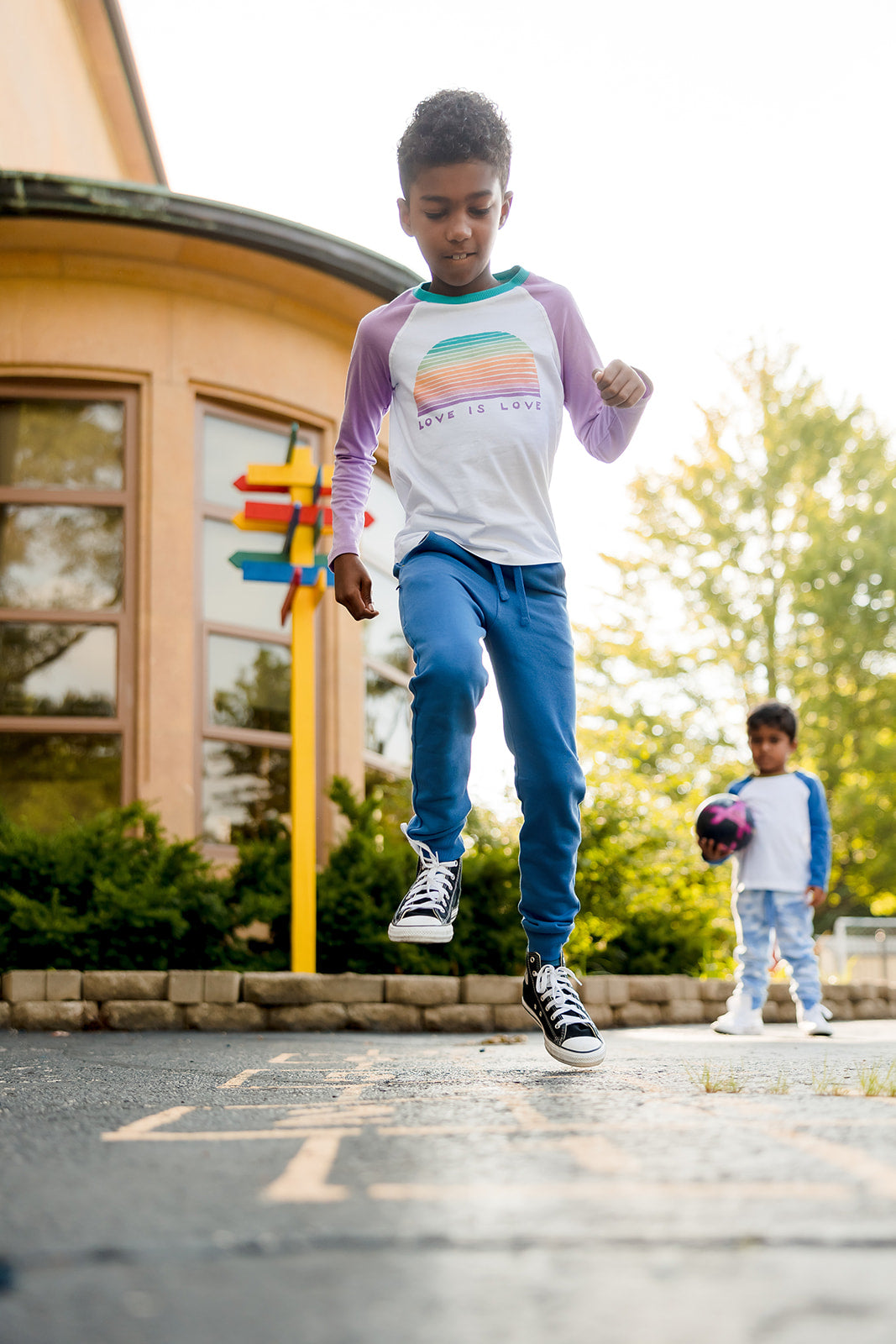 Meet Mightly: Mom Founded 100% Organic Cotton Kids' Clothing
When it comes to keeping kids happy and healthy, Mom-founded brands do it best (we would know). 
The moms over at Mightly just get it right. Tierra, Barrie, and Anya have combined their years of industry expertise and their real-life mom experience to create cute kids' clothes that last. We trust their 100% organic, play-friendly clothing so much and we think you would too!

We had the pleasure of speaking with Mightly's co-founder Barrie Brouse about the success of their kids' clothing brand. Keep reading and be sure to enter our special giveaway! 
Tell us the origin story for Mightly. How did you come up with the idea?
Mightly was founded by three moms with over 40 years of apparel industry experience. Our goal was to make the kind of clothes we wanted – but couldn't find – for our own kids, sustainable kids clothing that was tough enough to stand up to life's adventures, but didn't cost a fortune. 
Frustrated with her child's drawerful of holey leggings, Mightly's CEO Tierra Forte knew she could do better. With over 20 years of experience in the apparel industry specializing in developing sustainable products and building Organic and Fair Trade CertifiedTM supply chains, Tierra knew how to make clothes that could handle active kids like ours, at prices that working families could afford, and in a way that benefited, rather than exploited, the factory workers and farmers who helped grow the cotton and make the clothing.  Idea in hand, Tierra reached out to two old friends, designer Barrie Brouse – now Mightly's Chief Creative Officer – and attorney Anya Emerson – now Mightly's COO, and asked them to join her in a partnership to bring Mightly to life.  
What makes Mightly different?
 All Mightly apparel is made from certified organic, non-toxic cotton (better for people and the planet!) and is not just "sweatshop-free" but affirmatively made in a Fair Trade Certified factory. 
You'll notice we aren't trend- or fad-driven, but that doesn't mean basics have to be boring. On the contrary, we believe that comfort and creativity should go hand in hand. Our clothes feature original artwork by emerging textile artists and graphic designers to help create playful prints and graphics that are unique as the children wearing them.
We also believe in the importance of small details like functional pockets to keep treasures safe in all our dresses and reinforced knees in our leggings with a no-show, no-feel four-way stretch panel.  Our tees and PJ's have soft and stretchy rib cuffs and necks that make independent dressing easier.
What is your favorite part about owning your own brand?
We love hearing personal stories from customers! Some have reached out to tell us how we've made their morning routines easier, with clothing that their kids can feel good about wearing.  Others let us know that our organic and non-toxic tee shirts were the perfect solution, because conventional brands' chemicals left their children's skin irritated. 
As a WBENC-certified woman-owned company, we take pride in seeking out other women-run companies to partner with and have met many great and inspiring people along the way to share stories. 
Can you talk a bit about your sustainability efforts and values as a company?
Mightly has a completely "transparent" supply chain. What this means is that we know our factories, their suppliers and where our cotton is grown. By using organic cotton and working with a Fair Trade Certified factory, Mightly supports better working conditions for the people who craft our clothes.
 A key part of this starts at the cotton farms where we support farming families. While all organic cotton is better for the planet, not all organic cotton is the same. Mightly uses organic cotton from Chetna Organic Farmers Association. Established with the aim of addressing poverty in marginalized farming communities, Chetna is a farmer-owned non-profit that works with smallholder farming families in India to make farming a sustainable and profitable occupation. Chetna supports many development projects in remote farming villages such as schools, vocational training centers, eco-centers, women's enterprises and revolving loan funds.
What's your favorite piece from the collection and why?
I've always loved our graphic t-shirts and how versatile they are in both design and color. Our Galaxy T-Shirt looks great on all genders, because outer space is super cool!  We three founders are California born and raised, so our Ventana Beach inspired tee named "Under the Sea" explores the magic of the ocean. And this gets back to one of our core values, making basics that aren't boring and ones that can easily be handed down to younger siblings and family friends.
Are there any Mightly pieces you'd recommend for a first time purchaser?
It's not surprising that our signature Twirl Skater Dress became a fast favorite. It's fun to spin and has the best flare for any dress fan. If you've seen any of our @mightlyme social posts, you know what kind of amazing whirling and pirouettes we capture behind the camera.
Families also love our pajamas, and yes, I did say families. We now offer seasonal prints and stripes in sizes baby to adult, and they are becoming a fast favorite. We've even had some grandparents join the fun with family pajamas. The photos we received this year from customers are adorable!
As a business owner, can you share something you are especially proud of that you've experienced owning your own brand?
A favorite quote from poet Anne Sexton is, "Put your ear down close to your soul and listen hard." It's a great quote and serves as a reminder to listen to our intuition. As women, we are often taught to ignore our intuition, rather than to treat it as a source of wisdom. As entrepreneurs, we've come to realize that some of the best decisions don't always make the most logical sense, like leaving a stable job to start a company. However, the combination of hard work, motivation and intuition has proved to be a powerful force of which we are deeply proud.  
What can we expect next from Mightly?
It's never dull over here!  We have simply too many ideas (and not enough money & time 😊) when it comes to new products and ways that we can improve. This year, for instance, is off to a great start with new styles and an expansion into brick and mortar stores, where customers can check out how soft and cozy our cotton really is, and not just take our word for it!  And for those looking to get more out of their Mightly closet, we have great news. In a few weeks, families can start trading their outgrown Mightly for credit towards new styles!   Finally, spoiler alert . . . we have a super special partnership in the works so there will be even more reason for families to love us coming soon!  To find out more, sign up for our emails at Mightly.com.
Vitaminis Drink Health Shots and Mightly, a kid-friendly combo you can't beat. 
Enter HERE to win 2 Mightly pieces of your choice plus a Vitaminis 24 Pack.